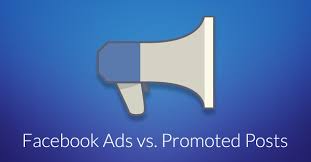 Facebook Ads – Boosted Posts V/s Sponsored Ads
Facebook Ads – Boosted Post
One cannot predict the value of Organic Facebook Ads for the simple reason that your posts can be buried in the huge pile of other newsfeed. Boosting your Posts guarantees a certain degree of visibility because they have a better chance of being seen by people who have Liked your business's Page in the past as well as their friends' even those who are not following your Page.
It is important to comply with Facebook's Guidelines for Ads since all boosted post have to be approved by Facebook before they can appear on the user's news feeds.
Steps to Boost Post
To begin with choose Posts that will help promote the product or service and will encourage visit to the business's website.
Either a new or an already published post can be boosted.
Begin by clicking the "Boost Post" button on the bottom right corner of the post.
Next choose the audience you wish to reach. You can select to boost the post to the News Feeds of people who had liked your Page, their friends, or else a specific group of audience by interests, location, ages and gender.
After selecting the audience, the budget for boosting this post needs to be ascertained. The budget is determined by the amount of time one wants the post to remain boosted, which will naturally determine the number of audience to which the boosted post will be visible.
Facebook Business Manager
Business Manager is a tool to manage access to pages and advertising accounts, which are intended for commercial activities that need to give different permissions to a large number of people.
Business Manager lets you:
Ad account management: identify the people who enter the pages and accounts of your ad as well as remove permissions or change the same.
Preserve the independence of your business: access to pages and ad accounts without having to be a friend of co – workers on Facebook.
Promoting a post allows more targeting options in the Ads Manager area.
Promoted post ad results will show in the Ads Manager so you can watch how your ad performs.
You can also create an unpublished post as a promoted post via the Ads Manager. These types of posts are good for people who are comfortable with Power Editor and want to do some additional testing on multiple ads.
 Facebook Ads – Facebook Sponsored Ads
Facebook Ads on the other hand are a more advanced way to advertise on Facebook, and requires a Facebook Ad manager account. The type of Ads selected will naturally depend upon the response desired.
Facebook ads offer great number of options for the advertisers. These options include likes, clicks to website, app installs, app engagement, website conversions, event responses, offer claims, video views & local awareness.
Conclusion
One has to be clear on the objective in terms of what you want the Ad to achieve.
Many marketers use boost post option because it is very easy and accessible. It's located right on your page's timeline and can be done with two clicks.
However this is not always the best option to reach your targeted and right client.
Promoted post option on the other hand allows more control over who sees your ad and how you pay for it.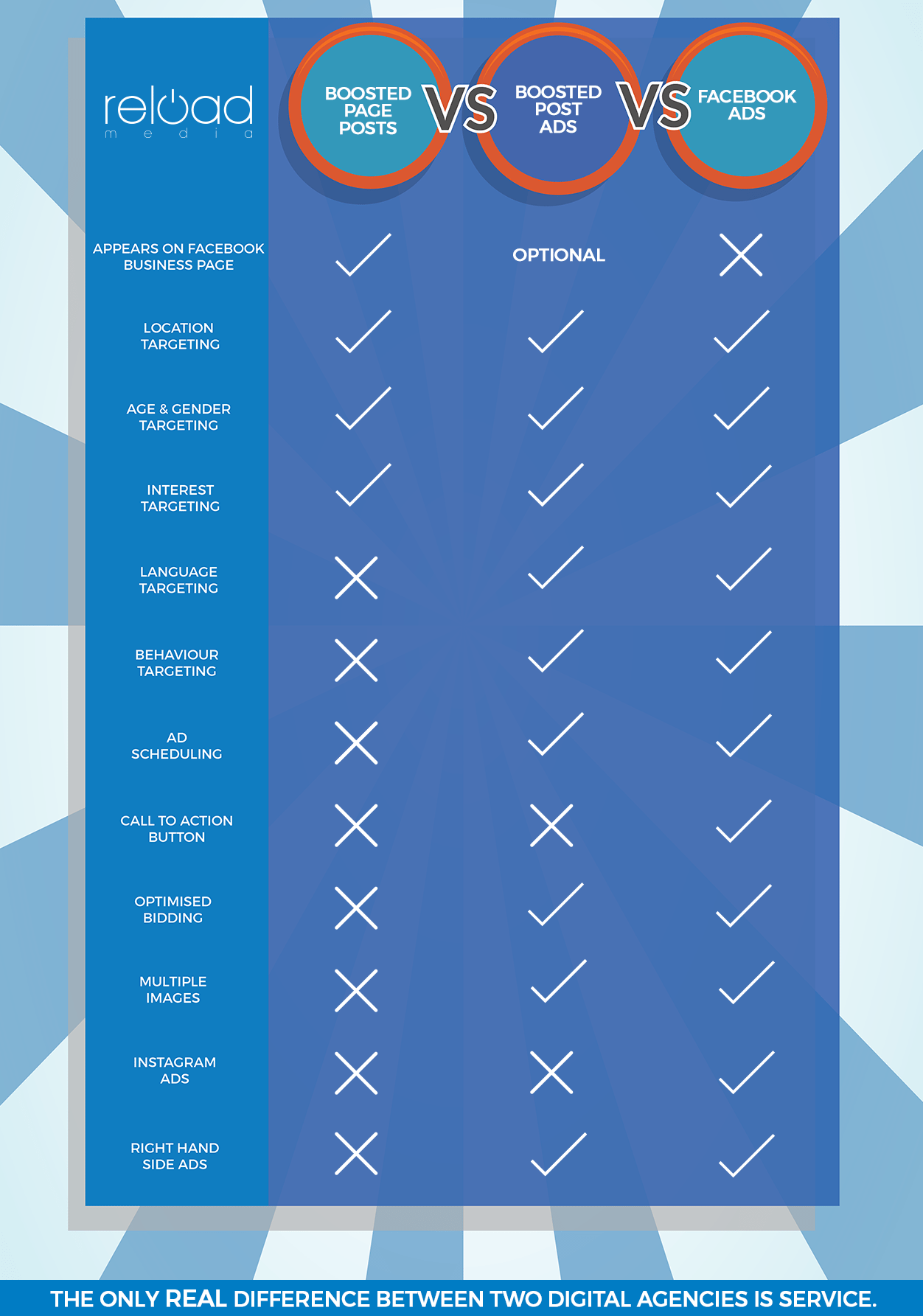 Image Credits – reloadmedia.com.au
Summary
Article Name
Facebook Ads - Boosted Posts V/s Sponsored Ads
Description
Boost post option is very easy and accessible for Facebook Ads. However, this is not always the best option to reach your targeted clientele.
Author
Kimberly is an experienced Social Media Marketing Professional. • She has an experience of 2+ years in social media marketing in Dubai • She has successfully worked with 25+ industries to promote them on social media and create good brand awareness for them. • Her expertise includes Facebook, Instagram, Snapchat & LinkedIn advertising / management. • Based on her practical experience she also provides the training for the Digital Marketing Workshop conducted by the company.