Accounting & Bookkeeping Firm Gets More Adwords Leads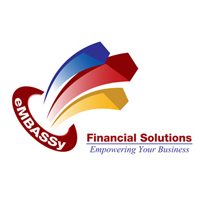 embassy financial solutions ONLINE PRESENCE & enquiries using google adwords search advertising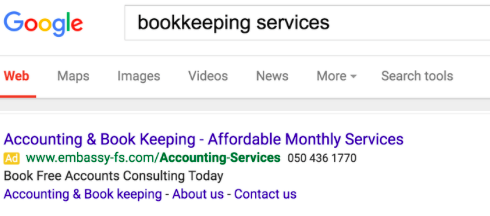 About embassy financial solutions:
Embassy Financial Solutions are a  full-range accounting and business consultative company that offers accounting, bookkeeping, payroll processing, management accounting, review management, and business advisory services.
Background:
Embassy Financial Solutions pride on providing professional and cost-effective accounting services to clients. Marketing was mainly through word of mouth and good work. They felt the need to do more effective marketing. As a startup company budget was limited and hence decided to try paid advertising. They approached Leads Dubai in December 2014 to explore how they can get more leads.
Goals:
Get new accounting and book keeping enquiries from Dubai
Be in the top 3 results of Google search when users searched for their products
Increase website traffic
Challenges:
Online trading is highly competitive market
Brand awareness and new registrations were stagnant with traditional marketing
Strategy & Approach:
We first created a dedicated landing page http://embassy-fs.com/ which highlights company services and benefits. We then narrowed down to select few services and build a strategy around it to create the Adwords campaign. Leads Dubai used below strategy to help Embassy get more visibility & registrations from Adwords.
Used targeted Search Campaigns in order to achieve goals
Themed ad groups for different services were created
Targeted keywords that get more visibility on search campaign
Reclaimed the ad positions with tight keyword match types
Got rid of multiple keywords which were not relevant
Used call, & site links extension to boost CTR, new registrations
Helped in creating new landing pages with contact forms get new registrations
Key Tools Used:
Google Search settings & features
Multiple Ad Extension Settings
Landing Page Optimization
Negative Keywords & Ad scheduling
Google Analytics – To measure quality of traffic


Above pic shows Blue Line, which is number of clicks per month. Orange line shows average ranking position (Always shows on top 3 results) from April 2015. There has been steady increase in average ad position for lower cost clicks.
Results:
Good Brand visibility achieved in the competitive market
Showed Ads to over 32,000 engaged users who wanted services
Over ___ new enquiries & calls received
Adwords sent over 700+ interested new web traffic sent to website
Below is WHAT MS. ROWENA – Managing director has to say:
"eMBASSY's experience with Leads Dubai is indeed very positive. Their service is very effective and promising in terms of securing potential Clients. The Managing Director being hands on in the Operations combined with his vast experience in the internet marketing gives us comfort that our page is always on top.  Leads Dubai is the perfect gateway for those building their Client database like eMBASSy. "
Mukesh Pandey is a Digital Marketing Strategist. He is Google Adwords Certified and strongly believes that Internet will enable us to speed up innovation and make life easier for everyone. He also founded Leads Dubai which is a Lead Generation Company in Dubai.
Know more about Mukesh on Google+