What are UAE consumers doing on Smartphones?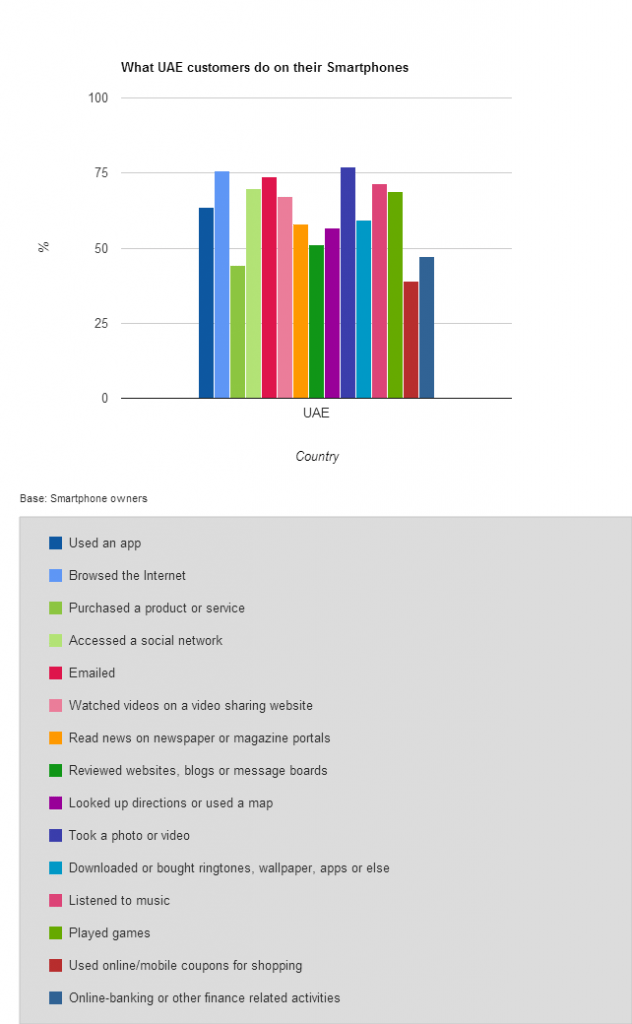 What are UAE consumers doing on Smartphones?
Iphone 5 is one of the most popular phones in UAE and now it is iphone 5s. Samsung galaxy lines are close second.
Ever wondered what is the favorite activity of users on their smartphones?
Google Mobile Ads help you to reach audiences on-the-go. Mobile ads appear on mobile devices in Google search results, on content websites, in apps and video. Use them to put your business in front of people as they use their smartphones and tablets throughout the day.
Here is a list of what people do on their smartphones in UAE. Order of high activities to low
Took photos
Browsed Internet
Emailed
Listen to music
Played games
Use of social network
Watched Videos
For me, smartphone just replaced the scanner & sms! its so easy as we explore the capabilities of smartphones.
As Leads Dubai is a Lead Generation Company, we also look at smartphones as a tool for mobile advertising for people on the go. Mobile advertising can be based on geo location, search queries. The call to action from mobile advertising can lead to a click to call, click on locations for directions and so much more.
We specialize in showing ads to people when they are browsing on the mobile or watching videos. It helps both the user to see relevant ads and to the advertiser to promote their services.
Mukesh Pandey is a Digital Marketing Strategist. He is Google Adwords Certified and strongly believes that Internet will enable us to speed up innovation and make life easier for everyone. He also founded Leads Dubai which is a Lead Generation Company in Dubai. Know more about Mukesh on Google+