Top 10 Google Tools to Research & Expand in International Markets

Top 10 Google Tools to Research & Expand in International Markets
There are 2.8 billion Internet users worldwide and tens of millions of businesses online. Wouldn't you like to add them as customers?
In this article, we will highlight some important tools to help you attract, communicate with, and sell to audiences everywhere in the world. You can create and grow a global business today like never before!
These tools can help you discover your market outside your country and expand your business. There are host of public data tools available.
1. Googles Public Data Explorer
The Google Public Data Explorer makes large, public-interest datasets easy to explore, visualize and communicate. As the charts and maps animate over time, the changes in the world become easier to understand. You don't have to be a data expert to navigate between different views, make your own comparisons, and share your findings.
See how many searches are happening for your products or services any where in the world. It is a great way to test before entering any markets.
3. Google Trends
This is a good starting point to discover how different trends happen at different places over time. It gives you great local insights. see our last post on ramadan trends and what people search during this holy month.
4. Global Market Finder
Google Global Market Finder is a free, online application that helps you find new markets for your products or services overseas.
Enter any keyword from your region & it will give you data and volume of those keywords in different regions. Try this to know where your audience is and what they are searching for
It helps you compare opportunities from different locations around the world using the following:
Google Search data
Google Translate keyword translation
AdWords keyword bid and competition
5. Consumer Barometer
The Consumer Barometer is a tool to help you understand how people use the Internet across the world. find users in different markets.
6. Google Business Maps
The Global Business Map provides a country profile for 48 countries on 6 different continents. The country profiles give an overview of fundamental country facts and specific market insights. Google have collected those metrics most relevant for uncovering market potential in order to help you recognise business opportunities specific to your company. This guide also provides an introduction to a range of products and tools available to you at Google which are designed to help you connect with your target markets.
7. Google Shopping
– know what products people buy in which countries
8. Global Market Evaluator
– know insights on specific industries
9.Insights for Search
With Google Insights for Search, you can compare search volume patterns for your products or services across regions and time frames.
10. Our mobile Planet.
Learn about smartphone adoption and usage across 48 countries. Create custom charts to deepen your understanding of the mobile consumer and get the data you need to guide your mobile strategy.
Some Links for Top 10 Google Tools to Research & Expand in International Markets.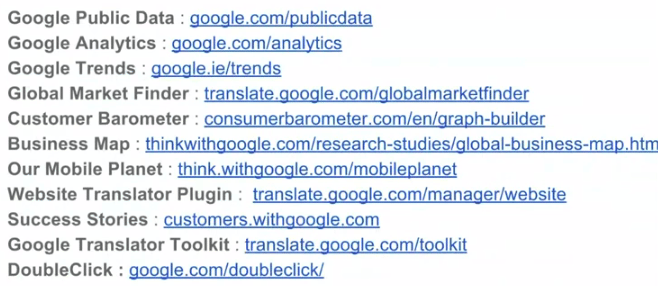 You can gather even more information about different countries' economies, online population, industry sizes and trends, and more, from sources such as the International Monetary Fund, the CIA World Factbook, eMarketer, comScore, Euromonitor, Forrester, Nielsen as well as from countries' bureaus of statistics (e.g. UK)
At Leads Dubai we feel that all marketers should be able to use these tools in order to take better marketing & business decisions. Contact us for a Consultation Today
Summary
Article Name
Top 10 Google Research Tools to Expand Internationally
Description
Want to expand in global markets? Take the right decision. Read our Top 10 Google Tools to Research & Expand in International Markets. Contact us Today!
Author
Mukesh Pandey is a Digital Marketing Strategist. He is Google Adwords Certified and strongly believes that Internet will enable us to speed up innovation and make life easier for everyone. He also founded Leads Dubai which is a Lead Generation Company in Dubai. Know more about Mukesh on Google+