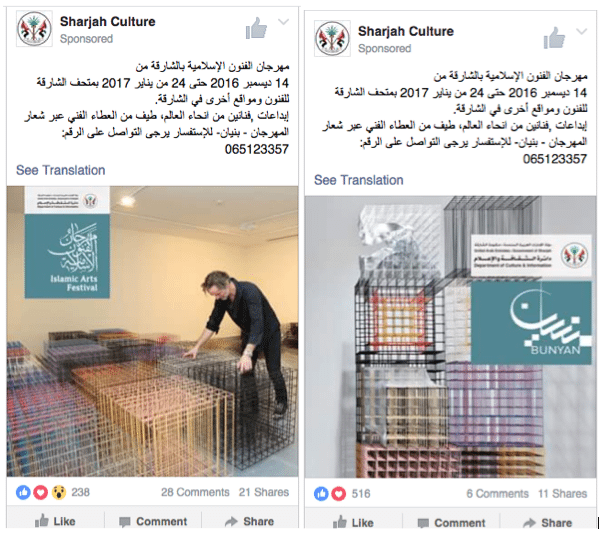 SDCI – Sharjah Department of Culture and Information – Festival Awareness Campaign
SDCI wanted to run ads for UAE audience from 15th December 2016 – 9th January 2017. Total Number of Impressions to be delivered was 500,000 Views on Social Media in short time. Leads Dubai proposed and executed the social media marketing campaign in order to achieve the goals.
Below are the examples of the best performing Ads

Definition:
Impressions: The number of times your ads were viewed.
Page Engagement: Total number of actions that people took on your Facebook Page and its posts, attributed to your ads.
Post Engagement: The total number of actions that people take involving your ads (or all posts, in some cases).
Post reactions: The number of reactions on your ads (or all posts, in some cases). The reactions button on an ad allows people to share different reactions to its content: Like, Love, Haha, Wow, Sad or Angry.
Report Summary:
Total Number of times your ad was shown = 507,523 times
Total number of people liked and did other actions on the ads = 4,994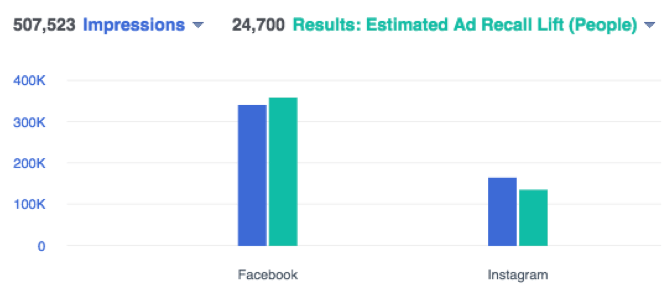 Summary:
Youtube Report:
Total Number of Youtube Video views for more than 5 seconds delivered = 5443
Total number of times Youtube Video Ads showed & Skipped = 28,545
Total number of users who clicked and visited the site = 36
Remarketing Campaign:
Total Number of times the banner ads were shown = 3.3 million times
Total number of users who clicked the ads and visited website = 1231
Our Learnings:
Use of good creative, with proper engage from internal staff to respond to the comments is very important.
Good Planning on the messaging and measuring the response of the campaign is equally important.
The Campaign was successfully delivered, based on the engagements and impressions received both on Facebook and Instagram within a span of 40 days
We are positive that awareness of the Islamic Arts Festival has been spread to a many people living in UAE as well as abroad due to the HashTags used and the response gained from them.
Leads Dubai is a digital marketing company. Talk to us for event marketing, promoting your services.
Summary
Article Name
Social Media Marketing Campaign generated over 500,000 video views
Description
SDCI wanted to run ads for UAE audience from 15th December 2016 - 9th January 2017. Over 500,000 Views on Social Media marketing in short time. - Case Study
Author
Mukesh Pandey is a Digital Marketing Strategist. He is Google Adwords Certified and strongly believes that Internet will enable us to speed up innovation and make life easier for everyone. He also founded Leads Dubai which is a Lead Generation Company in Dubai. Know more about Mukesh on Google+