Google Adwords introduces New Google Keyword Planner.
If you click on your Tools & Analysis tab in Adwords Platform you will come across some happy changes.
3 new additions i noticed
Keyword Planner which replaced Google Keyword tool
Google Merchant Center
Display Planner
Google Keyword tool which is by far the best tool to do Keyword Research has been replaced by Keyword Planner.
New Google Adwords Keyword Planner Tool
This tool looks like this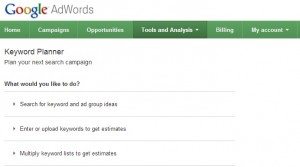 Google Keyword Planner Tool
This tool is a mashup of Keyword Tool and Traffic Estimator. This adds more control and complexity to your research which ads many factors like including the results based on the cpc, bids, budgets that you select.
A completely new Keyword Planner tool here is to multiply keywords based on lists.
For example you can add
other cities in 1 list and add
You can now think of multiple permutations and keyword combinations. In another list which gives you keyword ideas and their estimated cost and reach based on your budgets and bids.
You can now also do keyword research based on city level search instead of just country level research which happened earlier.
Search for Keywords and Ad group Ideas. This is the same old Google Keyword Tool with more customized search like Keyword Filters such as average monthly searches based on CPC bids you want.
You can also upload the list of keywords to see their search volumes. Am yet to explore the tool while i search for where have the match types gone?
There are no Global and local search results which was visible by default earlier. You may select the adgroup keywords or individual and add them to your media plan to use it in the campaign later. People who use Display Ad Planner which is now also in the menu will be aware of this. So you can give your cpc bid range for selected keywords and it will give you estimated clicks and cost per day.  I guess not many used traffic estimator as in my view, its estimators were way off than actuals.
This tool will be effective for PPC Marketing Companies and SEO companies in the space of Digital Marketing. At Leads Dubai we use the latest tools to help you reach your ROI.
Your comments on this new tool is welcomed!
Summary
Article Name
New Google Adwords Keyword Planner Tool
Description
Google Introduces New Google Adwords Keyword Planner Tool
Author
Mukesh Pandey is a Digital Marketing Strategist. He is Google Adwords Certified and strongly believes that Internet will enable us to speed up innovation and make life easier for everyone. He also founded Leads Dubai which is a Lead Generation Company in Dubai. Know more about Mukesh on Google+