Influencer Marketing, why it is a trusted marketing Option?
In todays time of fake news and fake advertising, it's not enough to have a big digital marketing campaign. Consumers believe less of what they read and see. They demand information from trusted sources and won't buy until they get it.
For all of the amazing new technologies that help marketers reach their customers, there are also techniques that have been invented to hide ads from viewers. Not only that, but marketers have to understand that many customers aren't especially trusting when it comes to brand advertising.
There is a fairly new marketing trend that actually addresses both of these points: Influencer Marketing.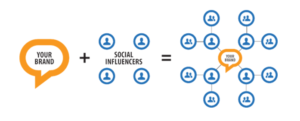 Influencer marketing taps into the power of writers and vloggers who are already well-known by your audience and uses their influence to spread the word about your business.
Below are A few stats from word pro that shows us the importance of influencer marketing:
92% of people trust personal recommendations over brands – even if they don't know the individual making the recommendation!
81% of people are influenced by their friends' social media posts.
71% of customers report having an improved perception of a brand when they read positive reviews on social media.
Did you know that 47% of people who shop online use ad blockers? It means that the best way to reach these customers is through content posted by people that they trust.
78% of brands have boosted their content output over the past two years
81% of marketers consider influencer marketing to be effective
59% plan to increase their budget for influencer marketing next year (2018)
51% believe that they capture better customers through influencer marketing
Facebook is a particularly powerful tool for marketers – in 2016, the platform influenced 52% of online and offline purchasers, a big jump up from 36% in 2015.
However, in the past year Instagram has become the go to platform to influence cunstomers.
How should you start this? First, figure out who you want to reach (key bloggers, vloggers, or social media personalities well-known by your target market.) Then, invite them to experience your product or service – for example, you could send them a special promotional package; invite them for unboxing of your products etc.
Please note that there is the possibility that they might share negative feedback, so make sure to have your best product/service displayed and take all possibilities into consideration.

Leads Dubai is a Social Media Marketing Agency. We can assist with Influencer Marketing. Please contact us on 0503047470 to get information about influencers from various industries and prices.
Summary
Article Name
Influencer Marketing Trends. See why it works. ( Cool Infographics Inside )
Description
So what are the top influencer marketing trends this year? There are many influencers on instagram, twitter, facebook, snapchat & youtube. Contact for rates
Author
Kimberly is an experienced Social Media Marketing Professional. • She has an experience of 2+ years in social media marketing in Dubai • She has successfully worked with 25+ industries to promote them on social media and create good brand awareness for them. • Her expertise includes Facebook, Instagram, Snapchat & LinkedIn advertising / management. • Based on her practical experience she also provides the training for the Digital Marketing Workshop conducted by the company.