Google Data Studio – New Innovative Reporting Tool
Google Data Studio – Transform Your Data into A Presentable One
No doubt that the dull looking reports are important, but they need to be interesting. And the good news is that, with Google Data Studio, you don't have to wrangle around each time to make your analytics data look presentable. Save spending those hours on creating a report by editing, formatting, and filtering. With Data Studio, you can build interesting report, highlight the insights, and create an informative data while saving a lot of your precious time.

Know more about Google Data Studio:
Google has recently come up with a new way of data visualization in the form of Data Studio. For those, who have been looking for an efficient reporting tool can now look forward to Data Studio. It can give your boring, dull looking data an informative visualization. It lets your clients understand the data at a faster pace. Also, you don't have to put much effort into creating it. Once you create and save it, you will be then able to share it with other people in less time.
Google Data Studio turns your data into informative dashboards & reports that are easy to read, easy to share, and fully customizable. It allows you to tell great data stories to support better business decisions.
Reasons we use Google Data Studio for client reporting:
The best part – It is unlimited & free.
Less time consuming and easy to create reports.
It integrates with Google Adwords, Google Search Console & Google Analytics
Customized & themed look  dashboard, reports which is easy to understand.
Create single or multi pages reports in your own style.
Creates a professional-looking report for the head of your organization with just a few clicks.
Provides better flexibility of working with your team from anywhere to collaborate in real time.
Sample of Google Data Studio Example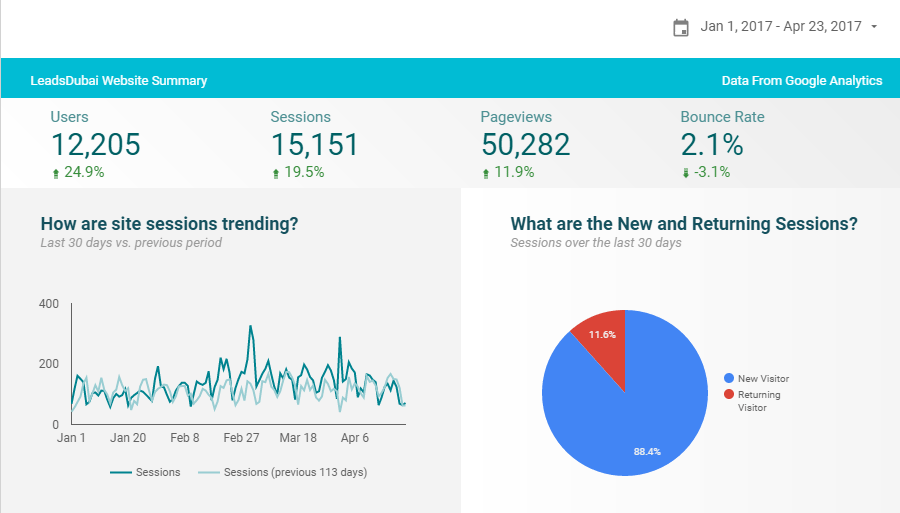 For people like you and me whose most of the job is based on working with spreadsheets will definitely find Data Studio bliss. You can take a look at analytics data and get the best possible solution for the same. It becomes easy to show your local clients the best of the work and effort that you have put to create a brand with such a presentable report. We help our clients improve their digital marketing efforts and spend more time improving their business.
Leads Dubai is a Certified Google Adwords Partner. We help small and medium size business improve their marketing results.
Summary
Article Name
Google Data Studio - New & Innovative Reporting Tool
Description
Google Data Studio is a Bliss For people like you and me whose most of the job is based on working with spreadsheets. See the benefits of this tool here
Author
SEO Consultant and Author. Kanika is a SEO Consultant and has keen interest in Internet Marketing. She composes web blog identified with most recent Search engine optimization trends and tips.