Free Software for Email Marketing Solutions on Gmail
Free Software for Email Marketing Solutions on Gmail
B0omerang for Gmail
Send an email later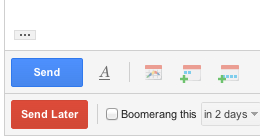 With Boomerang, you can write an email now and schedule it to be sent automatically at the perfect time. Just write the message as you normally would, then click the Send Later button. Use our handy calendar picker or our text box that understands language like "next Monday" to tell Boomerang when to send your message. We'll take it from there.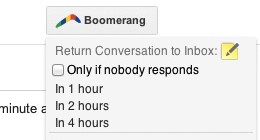 The best follow up reminders
Want a cleaner inbox, but don't want to lose track of important messages? Use Boomerang to take messages out of your inbox until you actually need them. Just click the Boomerang button when you have an email open, and choose when you need it again. Boomerang will archive the message. At the time you chose, we'll bring it back to your inbox, marked unread, starred, or even at the top of your message list.

Remind you if you don't hear back
There are times you need to make sure you follow up within a specific time frame after sending a message. You can select to only be reminded if nobody replies, or regardless. This way you won't let messages slip through the crack and will never forget to follow up with people.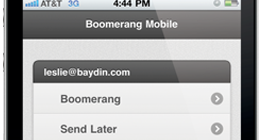 Now available for Mobile!
Have you ever been out at dinner and remembered that you need to do something when you get to the office tomorrow morning? Now you can write an email while you're on the go, and have it arrive exactly when you need to be reminded—like 8AM the next morning.
Leads Dubai helps you do email marketing to over 800,000 users in UAE. Fill up the form and find out how many target audience you can reach.
Mukesh Pandey is a Digital Marketing Strategist. He is Google Adwords Certified and strongly believes that Internet will enable us to speed up innovation and make life easier for everyone. He also founded Leads Dubai which is a Lead Generation Company in Dubai. Know more about Mukesh on Google+