Facebook Advertising Strategy. How to Facebook Ad Auction Works

Facebook Advertising Strategy. How to Facebook Ad Auction Works
Do you wonder how Facebook's auction determines when and where your ad will appear, or why some audiences cost more to reach than others?
In this article you will learn the science behind serving an ad to the right person at the right time, at the lowest possible cost per result.
There are 1.86 billion people on facebook. The goal of ads is to connect advertisers with the users. 100'000+ auction are running every seconds which decides which ads to show to which people. So how does facebook delivers your ads in the newsfeed?
There are 3 main delivery auction factors
Budget
Bid
Time Frame
If your ads are not getting enough impressions, you can do accelerated ad serving which will show your ads to every available impression that falls below your bids. But with this option you will blow through your budget extremely quickly. So its better to keep it to standard bidding and reach to as many users through out the day.
Different advertisers have different goals. These means not all impressions are equal. Some impressions are more likely to deliver results than others.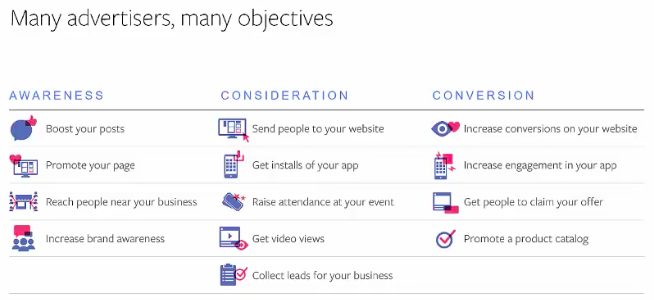 Many advertisers want clicks & traffic, they are assuming users will come to the site and convert. But it doesn't work that way. Do not bid for facebook likes. You set the objective to maximize clicks not maximize conversions. So thats a wrong objective selected in the first place! One need to explicitly tell what objective your looking for.
That is good news as this AI limitation will probably keep us in business for few more years 😉
Below is the formula for each Facebook Ad impression served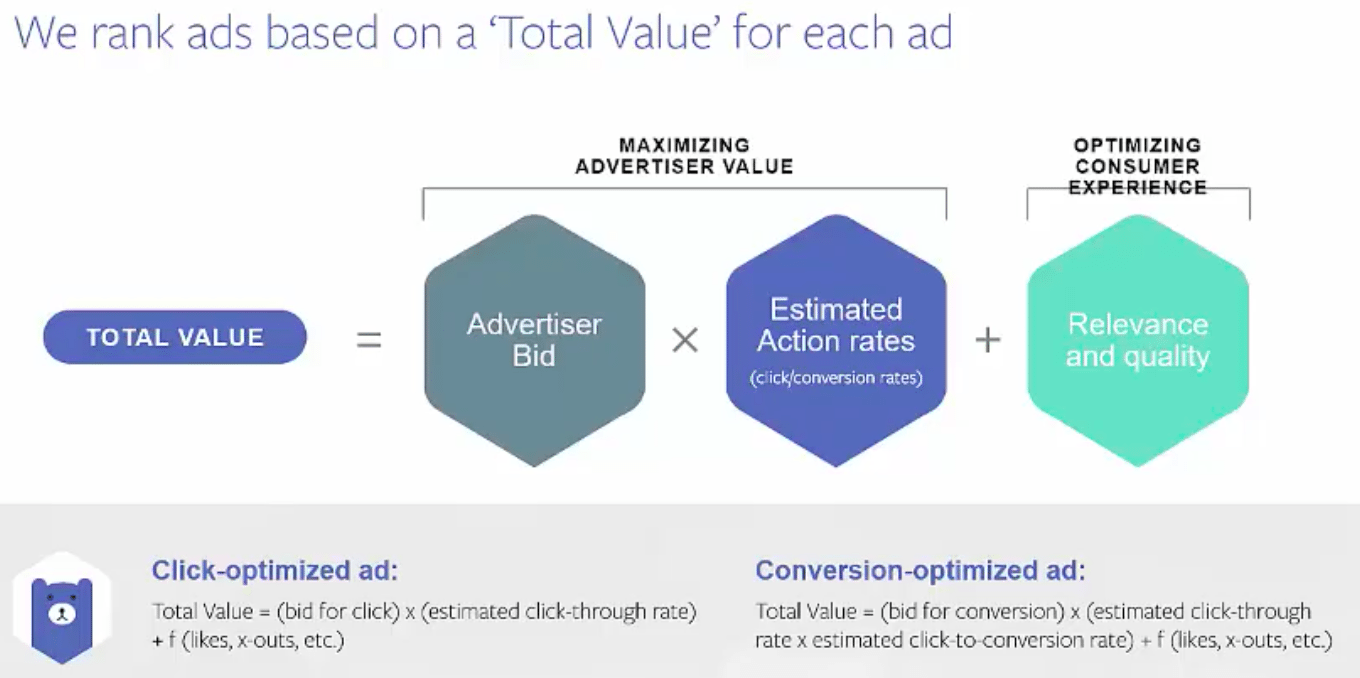 If you noticed, low bid with high click through rate will get the ads to show more than high bids and low engagement. So it pays to optimize on your campaign setup and the ad image creatives. Select the right objectives in the adset level. And set the right bids –
There are many factors that influence the click through rate.

If you are running facebook conversion optimizer, then wait for minimum 25 conversions for the facebook bidding to work in your favor. More data makes the system easier to learn and optimize
Finally Facebook Ad Relevance Score which you can check in the ads reporting. You can also monitor positive and negative feedback. Negative feedback means your ad relevance can hurt and your ads can show lesser or you can pay high for the impressions.
If your in to get maximum reach for your ads, running ads on facebook, instagram and audience network can get you the best bang for the buck as there is more inventory to choose from. This is also called as best response bidding
Another problem can be high text in images, or high bounce rates on your website can also affect your relevance score and impact performance. We have noticed many advertisers choose the wrong objective which cost them too much to show ads and no results
What we have learned is that on need not optimize facebook ads to get page likes or engagements. It rather be direct action like traffic to website. The website better be mobile optimized as major traffic is sent via mobile devices. Your website is where conversions or action happens.
Summary
Article Name
Facebook Advertising Strategy. Discover how Facebook Ad Auction Works
Description
Do you wonder how Facebook auction determines when and where your ad will appear, or why some audiences cost more to reach? Facebook Advertising Strategy.
Author
Mukesh Pandey is a Digital Marketing Strategist. He is Google Adwords Certified and strongly believes that Internet will enable us to speed up innovation and make life easier for everyone. He also founded Leads Dubai which is a Lead Generation Company in Dubai. Know more about Mukesh on Google+