How Amex Car Rental Company increased their daily calls and leads by running Google Search Ads Campaign using Call Extensions.
About AMEX Car Rental DMCC:
Amex Cars DMCC has been providing rent a car services to clients across UAE. We have made sure to provide quality cars, professional services to all our clients. We have wide range of fleet and we make sure, we deliver what we promise.
Background:
Amex Cars are based in JLT relied on the repeat customers and over a period of time, they felt the need to do more marketing to reach to new customers. They had never tried Google Adwords before and were reluctant to try online marketing and not sure if it will work. They had cars to lease but were finding it hard to find daily customers.
Goals:
Get daily phone calls and leads
Maintain a steady flow of enquiries to move cars
Grow visibility by boosting website traffic
Challenge:
There is tough competition in the space of rent a car companies in UAE.
Price sensitive industry with many options available to customers.
Cost of marketing is high considering the bigger players.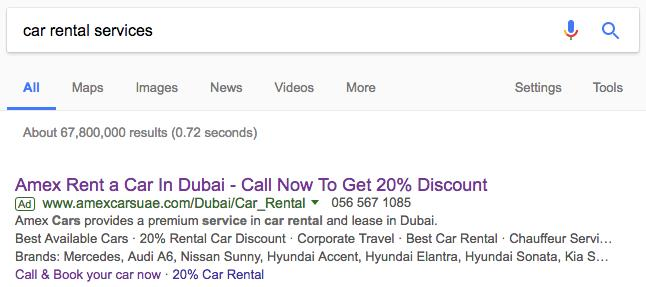 Strategy & Approach:
Leads Dubai used below strategy to help creative zone get more cost effective leads from Adwords.
Developed an effective landing page with the key information displayed right on top.
Worked out a special offer to display in ads and on the landing page which lead to conversions.
Special focus on mobile, with call extension and call only ads, which lead to more calls.
Introduction of chats and quick to respond company executives.
Implementation of conversion tracking and other measurement mechanism.
Created themed adgroup which lead to better clicks at low cost per click
Created multiple ad copies, which were relevant to the keywords & context.
Use of all ad extensions to boost CTR, Leads, calls & walk-ins.
Key Tools Used:
Google Search
Flexible Bidding Strategies
Ad Extensions
Live Chat
Keyword Planner Tool
Google Analytics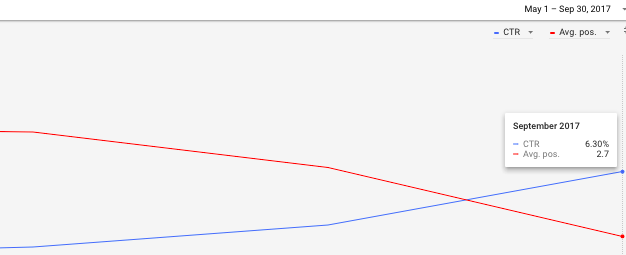 Above pic shows Blue Line, which is the click through rate. Red line shows the average position. With improved CTR, the client got higher ad position and lower cost per click.
Results:
Over 5000 qualified website traffic was sent to amex website in last 4 months
Daily 2 – 3 leads / calls as new were delivered in same period
With hyper local targeting over 300 calls + chats were generated.
More clicks in the same budget was delivered across the months.
Nabeel Sher – Managing Director of Amex Car Rentals says:
"I would like to take this opportunity to thank Mr Mukesh and his team who have imprinted a very professional impression on me since we met first time…."Leads Dubai " is an absolute pleasure to work with..its super helpful in organizing the advertising sector for my business with positive results.. Mr Mukesh have really worked hard for us to gain the spotlight of the audience specially on Google.. i would whole heartedly refer my business coullegues and friends to work with Leads Dubai for a positive breakthrough in their business.."
Summary
Article Name
How Car Rental Company in Dubai generates new calls - (Case Study )
Description
Google Ads Goals for Car rental company is to - Get daily phone calls and leads - Maintain a steady flow of enquiries to move cars - Grow visibility.
Author
Mukesh Pandey is a Digital Marketing Strategist. He is Google Adwords Certified and strongly believes that Internet will enable us to speed up innovation and make life easier for everyone. He also founded Leads Dubai which is a Lead Generation Company in Dubai. Know more about Mukesh on Google+