App Store Optimisation. Get More App Downloads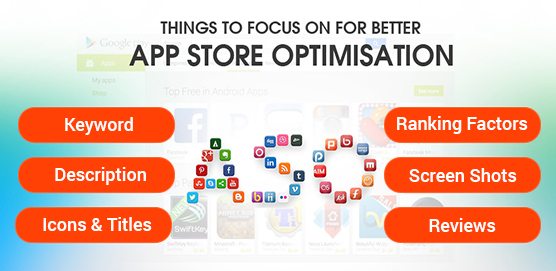 App Store Optimisation. Get More App Downloads
App Marketplace Scenario
The app market is one of the most competitive spaces in the world. And it's crowded — with approximately 2 million iOS App Store apps and 2.5 million Google Play Store apps. Between the sheer number of apps and the skyrocketing costs of advertising, successfully acquiring and retaining users is more challenging than ever. App store optimisation can help immensely.
Implementing a holistic and iterative ASO program will not only improve organic discoverability, it will increase your chances of convincing users to download your app.
"Paid app downloads in crowded & competitive marketplace of UAE ranges from $3 – $4 per download"
How to improve your app discoverability
CHOOSING STRONG KEYWORDS
Use multiple reference points. Be sure to reference user reviews, competitors and other resources when considering keywords. Most importantly, choose keywords you can realistically compete on.
SELECTING A CATEGORY
It's about user behavior and your competitors. Before selecting an app category, consider your app's most natural as well as how your target users are most likely to find you.
GENERATING ORGANIC REVIEWS
Pay attention to what your users are saying. Track your rankings and reviews to see how users respond to new updates and features. Remember to mine this feedback for insights. Be responsive to the reviews.
PROMPTING USER FEEDBACK
Target high points. Improve the likelihood of receiving a positive review by asking for feedback when a user is having a great moment with your app.

How to make a first impression in App Store
APP ICONS
Keep it simple, scalable, recognizable and unique. Keep testing until you nd the most effective variation.
SCREENSHOTS
Maximize visibility: That means five screenshots in the iOS App Store and eight in the Google Play Store.
Tell a story, but start with the close: Your screenshots should have an engaging narrative, but make sure to show your two best screenshots first.
VIDEO
Keep them short, sweet and punchy. Choose simplicity over flash. Sound and text are equally important.
TESTING
It's important to continuously test new designs to optimize for the highest performing creative assets. Your testing strategy will shift based on the app store you focus on. Keep the potential of each asset in mind and prioritize accordingly.

Planning to go Global?
TRANSLATION
Translate key text to improve discoverability: Keep in mind that even if users understand English, they may still search in their native language. Translating the title, description, keywords, etc. will allow users to nd your app easily.
Capitalize on markets that index multiple languages: The iOS App Store may index multiple languages, depending on the country. Use that valuable real estate wisely.
CREATIVE ASSETS
Make assets locally relevant: Adjust your screenshots, videos and app icons to make them as relevant and impactful as possible in the regions you're targeting.
NEW MARKETS
Start with research: See what competitors are doing as well as the apps your target audience gravitates toward. Be sure to check keywords, descriptions, reviews and the creative assets being used in market.
MEASURING SUCCESS
ASO is an ongoing process, something that requires nurturing and attention and, you guessed it, optimization. This means:
Monitoring your keyword rankings (and your competitors')
Spotlighting new features and UI enhancements
Updating and testing creative assets to highlight app updates
Analyzing reviews and rankings and leveraging feedback
Adjusting the marketing levers that drive downloads and spark reviews
Localizing your app's metadata to increase discoverability and conversion across regions
Through App Annie, you can easily search keywords among dozens of countries on iOS and Google Play to identify the best keywords to target for your localisation strategy and improve visibility with Marketing Intelligence.
Mukesh Pandey is a Digital Marketing Strategist. He is Google Adwords Certified and strongly believes that Internet will enable us to speed up innovation and make life easier for everyone. He also founded Leads Dubai which is a Lead Generation Company in Dubai. Know more about Mukesh on Google+